January 22, 2019
What Construction Should Focus on in the Off-Season
If you're among the lucky Americans who experience four distinct seasons, your construction company is probably in the winter doldrums of the off-season. For many businesses, this can be a stressful, fretful time that lacks hands-on lists of objectives and probably even hits your revenue stream.
We've put together an action list of items to take on so you won't feel that cabin fever quite so much. (Have we mentioned we're based in Iowa? We get all four seasons...sometimes in the same month.)
Stay in Touch with Employees
If you have seasonal employees, there's a good chance some of them leave town for the winter. The best employees are often the ones who've worked for you before - don't let the good ones get away.
1. Make sure you have contact information for seasonal employees.
2. Let them know you value their work.
3. Communicate with them throughout the off-season.
4. Invite them back early - don't let other opportunities snag them.
5. Keep them up to date about when your projects are scheduled to take off again.
Build an Employee Referral Program
Employee referral programs are a top source for quality hires, and they have a higher retention rate than people who join your team through career sites.
6. Have a process in place for employees to make referrals. An integrated performance management system gives them a central location to make referrals.
7. Keep the referring employee in the loop on the candidate's status.
8. If possible, offer a reward for referrals that get hired. According to SHRM's 2018 Employee Benefits Survey, 51 percent of companies offer employee referral bonuses - 10 percent more than just four years ago.
9. Make sure employees know about the referral program.
10. Make it simple and mobile-friendly. Don't ask employees to do legwork like writing a recommendation or uploading a resume - those are unnecessary hurdles that discourage referrals.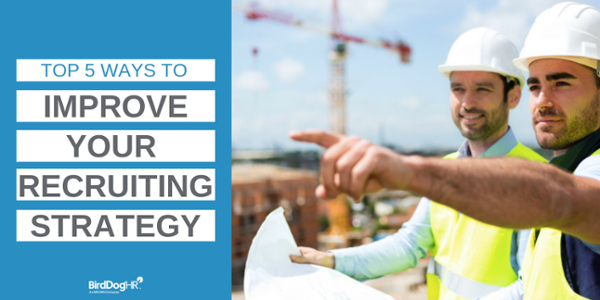 Work on Your Future Employee Pipeline
According to the Bureau of Labor Statistics' October 2018 report, unemployment is at its lowest since 1969, and the construction industry is probably suffering the most in regards to qualified candidates.
11. Launch an apprenticeship program. Effective apprentice programs produce a 150 percent ROI for employers, according to the U.S. Department of Labor.
12. Form a relationship with local high schools, community colleges and universities to recruit before graduation.
Work on Internal Marketing
As business slows, it's a great time to revamp areas that may have gone under the radar during the busy season.
13. Evaluate your job posting approach. Are you posting to the right platforms, using social recruiting, targeting the right demographics and communicating to each and every applicant automatically? If not, you could probably save yourself some time and stress with a great Applicant Tracking System.
14. Update your website with completed projects, testimonials and other important information.
15. Monitor your reviews on Google, Facebook, Glassdoor and Indeed.
16. Gather customer reviews.
17. Get active on your social media sites. Facebook is a crowd favorite, but LinkedIn is increasingly effective for business marketing, and Instagram has shown great impact for companies that have great before-and-after pictures, as well as behind-the-scenes posts.
18. Build a strong company culture, which is a combination of your value statement and how well you adhere to it.
19. Strengthen your employer brand so you can attract top talent.
Start Lining Up Business
20. Connect with old clients. If you did work for them in the past, they might be ready for their next project.
21. Work on promotional offerings. You might take a hit on how much you're bringing in on the project, but having jobs lined up will ease your mind a bit as winter stretches on.
Make Your Presence Known
Don't go dormant - stay relevant and top-of-mind in your space.
22. Attend relevant trade shows, conferences, and home and garden shows.
23. Network in person through groups like trade organizations and local chambers of commerce, and online through social media sites.
24. Teach the community something useful through DIY courses.
25. Volunteer as an organization at popular events.
Provide Secondary Services
Depending on how specialized your work is, perhaps some of it can be transferred to skills better suited to the colder weather.
26. Interior remodels like replacing kitchen cabinetry, remodeling bathrooms and painting.
27. Snow plowing and shoveling services are intermittent but can help prop up those off-season revenue slumps.
28., Holiday lighting is a growing industry (read this inspiring start-up story). There are plenty of Clark Griswold types who would like to have thier home lit up but are afraid of heights.
Housekeeping
All those items you don't have time to deal with fully during the busy season are prime pickings for winter downtime.
29. Review business insurance policies.
30. Complete any necessary safety training.
31. Prep for tax season.
32. Take inventory of materials on hand.
33. Take some online business or marketing courses to bolster your know-how through sites like LinkedIn Learning and Udemy.
If you're starting to feel like your downtime is pressing in on from all sides, perhaps it's time to revolutionize the way you manage your employees. Sign up for a personalized demo to learn about all the BirdDogHR offerings, from recruitment and applicant tracking and performance management software to core HR like payroll and benefits management. All mobile-friendly - no special tech required.