June 12, 2019
Making Your Job Stand Out in a Crowded Job Market
HR professionals are the utility player of a company. They have their hands on a little bit of everything, from payroll and training to benefits and time-off policies. Where HR particularly shines is in recruiting and hiring. You've probably got a lot of tricks of the trade when it comes to landing great applicants, but as with any expert, you can't lean back and rest on your laurels. You've got to stay relevant, up-to-date and on the edge of new trends.
We've got four ways to make your jobs stand out in a crowded job market.
1. Keep Up with the Competition (a.k.a. Google)
Our Account Managers start with a quick Google search of their own jobs. What they find is often an eye-opener, with surprises about what their competitors are offering:
Huge sign-on bonuses
Paid benefits
Unlimited PTO
By doing some ground-level investigating, you can better position your own ads to stay competitive, or even better: lead the pack in "wow"-ing job seekers. Depending on your industry and target candidates, different benefits may attract different applicants. Whether you're ready for a full-on benefits re-evaluation, or you want to throw in a couple of eye-catching initiatives, consider these top 10 benefits with strong growth over the past five years (source: SHRM's 2018 Benefits Survey):
Standing Desk | up 33 points | 53% of employers offer it
Paid Maternity Leave | up 23 points | 35% of employers offer it
Onsite Lactation/Mother's Room | up 21 points | 49% of employers offer it
Roth 401(k) | up 18 points | 59% of employers offer it
Casual Dress Every Day | up 18 points | 50% of employers offer it
Paid Paternity Leave | up 17 points | 29% of employers offer it
Financial Advice Offered, One-on-One | up 17 points | 34% of employers offer it
Paid Adoption Leave | up 16 points | 28% of employers offer it
Telecommuting on an Ad-Hoc Basis | up 14 points | 28% of employers offer it
Free Computers for Employees' Personal Use | up 14 points | 19% of employers offer it
2. Put Employee Culture on Display
Do you know what potential employees like almost as much as great pay and benefits? Positive culture! At BirdDogHR, we've established a culture of fun, innovation and employee appreciation...we also love dogs. As part of our culture, employees are allowed to bring their fur friends into work with them.
We also show off #PetsofBDHR and even our mascot as he trots the blog with employees (#FreeRangeRanger).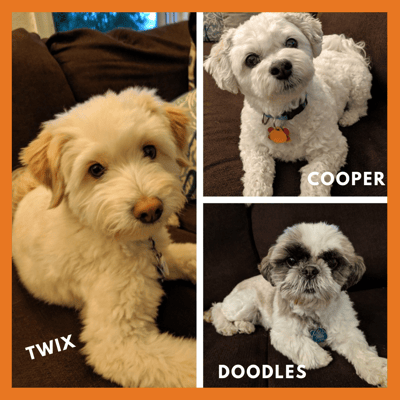 If you're confident your company culture tips toward the fun side of the scale, show it off:
Catch job hunters' attention by jazzing up the tone of your job postings
Include fun company culture examples on your website
Use social media as a brand enhancer, by posting group events, employee appreciation or fun times
3. Get Real with Employee Testimonials
Harnessing the power of personal testimonials is a classic marketing strategy, and for job descriptions, it can produce similar results. Even when a job hunter doesn't know the quoted individual, the sentiment of a regular person talking straight will resonate. The benefits of testimonials include building trust, establishing authenticity and telling a good story through social proof that people enjoy working at your company.
4. Show Up on Review Sites
You won't be the only one Googling your company. In today's competitive job market, most job seekers are savvy evaluators of what's on offer. With sites like Glassdoor and Indeed lowering the curtain on the internal operations of a company through anonymous reviews, job hunters have more information than ever about their prospective employer. Whether your reviews are good, bad, or 'meh', it's important your business has presence on these sites. For example, if you have an unflattering review, it's critical that you buck up and address it graciously.
Remember, job hunters are looking for a reason to want to work for you; you need to show leadership, responsibility and ability to listen and learn. If you have great reviews, wonderful! Give a sincere thank you and encourage them to come back and update the review as their positive employee journey continues.
With the competition for hot jobs more intense than ever, it's a great time for recruiters and HR specialists to showcase talent. There are a lot of ways to rise to the top of the recruitment game, but it's all more likely to happen efficiently and repeatedly when you have a robust tool in place to implement your strategy. Get a free demo today of our smart HR software, which centralizes all your HR initiatives and reports on their impact.
You Might Also Like: