January 28, 2019
The Most Desired Employee Benefits for 2019
The days of offering "competitive benefits" are over. In 2019, companies are facing a combination of important cultural and societal factors that impact HR. For example:
Companies struggling to get the right workers in the right amount of time (and keep them) need to seriously consider revamping their employee benefits management approach in 2019.
We've collected 17 benefits that are gaining popularity across four broad categories. Take a look and improve your recruitment and retention with targeted offerings.
Leave Policies
Employees have spoken. They want paid leave, for pretty much everything. Here are some benefits that are spiking in popularity:
"82 percent of Americans say mothers should receive paid leave following the birth or adoption of their child. Sixty-nine percent say fathers should."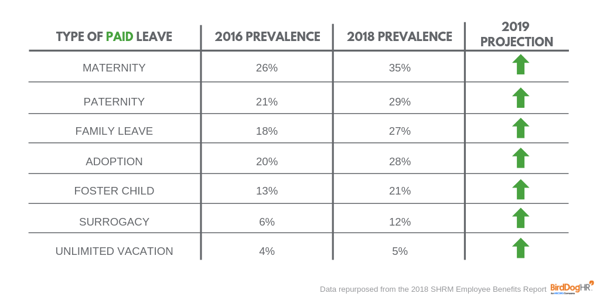 Office Policies
Keeping things up to snuff at the office will play into your employees' perception of benefits. Leading the pack for in-office efforts:
Employee Support
We've all heard the quip, "Happy wife, happy life." Now make it employee-focused. Happy employees are good business, and in today's environment, a happy employee is worth quite a bit. These employee-centric benefits are popping up:
Health-Related Benefits
The American healthcare system is expensive! For employers and employees, the cost is a major part of the budget each year. Cost-management continues to be a focus, and companies will keep exploring mutually beneficial solutions for employees.
Financial Wellness
Between the masses of Millennials who are still paying off student loans and the bulk of Baby Boomers who are looking at retiring soon, financial concerns loom large.
Free Technology: According to SHRM, employers offering workers free computers for personal use has seen a 15-point increase in the past five years.
The hunt for talent is on, and if your organization - like many - are facing long recruitment timelines and a shortage of prime applicants, it's time to kick your employee benefits management strategy up a notch.
You Might Also Like: