January 02, 2019
Recruiting, Employing and Retaining Skilled Laborers
In 2018, the Department of Labor announced the lowest unemployment rates since 1969 - and for blue-collars workers, the market is even tighter. According to a report released December 13 by the Conference Board, the market of workers is in high demand:
"Reversing a decades-long trend in the U.S jobs market, companies are now having a difficult time finding blue-collar workers than white-collar workers. The new analysis forecasts that growing blue-collar labor shortages will continue in 2019 and beyond."
Lots of things go into this, including impacts from the 2008 recession, immigration, the opioid crisis and gender norms, but the message for today is clear: blue-collar jobs are hard to fill, and in conjunction, hard to retain employees.
In this competitive industry, here are some great strategies to recruit and keep your talent:
Make Sure You're Mobile-Optimized
Not all industries have the same levels of mobile job search demand. Job seekers in blue-collar industries are more likely to use their phone to fill out a job application or create a resume or cover letter (Pew). Here are percentages of job seekers using mobile tech to job search, according to Indeed:
Decrease Education Requirement & Offer Training
When you need people on the job site, you need them STAT. but when there's a labor shortage, you need to take your worker pipeline into your own hands. By lowering education or years-of-experience requirements, you're widening your pool of candidates. And in many industries, on-the-job training is a great way to create high-skill-level workers. Apprenticeships have made a roaring comeback, and according to the Department of Labor, effective apprenticeship programs produce a 150 percent ROI for employers.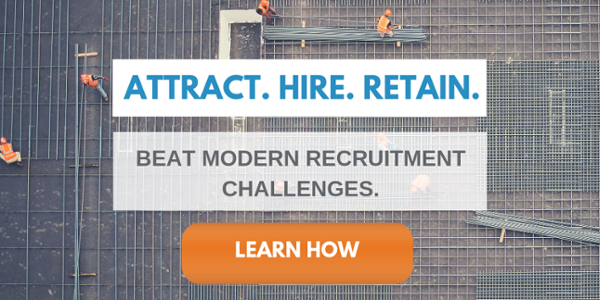 Offer Great Benefits
A big part of the skilled-labor crisis is the mass exit of Baby Boomers from the workforce. With so many of these skilled workers leaving, it's up to Millennials and even Gen Z to start stepping up. Here are some benefits that are hot for the younger crowd:
Get Feedback from Employees
For a company to attract and retain engaged employees, your leaders need to have a robust relationship with their team, top to bottom. A Gallup study showed that 67 percent of employees have had an annual review in the past 12 months, and yet only 30 percent say their manager involves them in setting their goals at work. Stay in touch with employees and make sure you have a feel for the team's enthusiasm and satisfaction as your employee. Anonymous surveys through a Core HR system are a great tool for this.
Have an Employer Brand that Impresses
Your employer brand is your reputation as an employer. More and more, the "employee experience" is driving the job market, and with your skilled laborers already in high demand, they truly have their pick of opportunities. Here's how to nail your employer brand:
Hiring candidates is the first steps in having an effective army of workers, and therefore, an effective company. Don't let the labor crisis stop your momentum - it's time to streamline your HR headaches with smart HR, so see a personalized demo now.
You Might Also Like: